The Snack Shack
on Santa fe
8039 Santa Fe Drive
Overland Park, Kansas 66204
(913) 381-3200

Tuesday - Friday: 11AM - 7PM
Saturday: 11AM - 3:00PM
COVID-19 Hours

Snack Shack Lunch Menu Snack Shack Map

Snack Shack on Santa Fe - Overland Park, Kansas
The Snack Shack on Santa Fe in Overland Park, Kansas went through several identities in its first few years. It opened as the Shake Shack in 2010, but after repeated threats of a lawsuit from a small fast food chain in the eastern US, changed its name. Since the signs were already made, they cut the the top off the "h" and removed the "e" so "shake" became "snak" and it became the Snak Shack.
The Snak Shack closed in the summer of 2011, but a new family reopened the restaurant as the "Snack" Shack on Santa Fe in September of that year. The restaurant became more professional and they started taking credit cards. Somewhere along the line they shifted from using fresh hamburger from Bichelmeyer Meats to getting it from McGonigle's Market.
The menu is limited and has grown shorter over time: burgers, hot dogs, port tenderloin sandwich, chicken sandwiches, a house made veggie burger, three side dishes, and ice cream.
The $5.50 single burger is a quarter pound, $7 with fries as a "Shack Attack." The $8 Bobby Burger has two 1/4 pound patties, cheese, grilled onions and jalapenos. They do not ask how you would like the burger cooked, cooking them all medium well.
The old Snak Shack had hand made onion rings and fries. After a couple of years, the new restaurant started preparing fresh cut fries. We think they would benefit from being cut just a little larger, but they are very good.
The tiny restaurant has only counter seating for about 12, but there are also tables outside and a window where the food can be picked up.
Recently, the Snack Shack added a breakfast which we haven't had a chance to try. From 8-10AM they now offer breakfast burritos, biscuits and biscuits & gravy, priced from $3-4.50.

Food purchase is available only at this window during the COVID-19 outbreak in April 2020.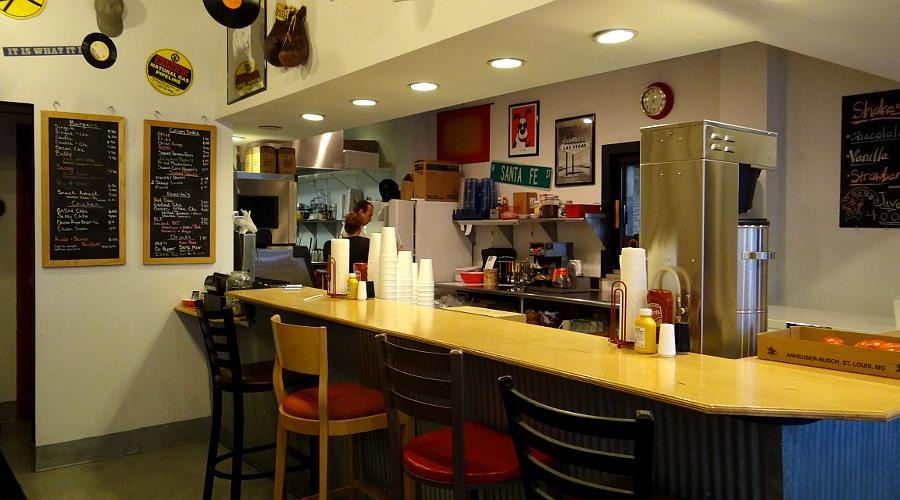 Snack Shack Counter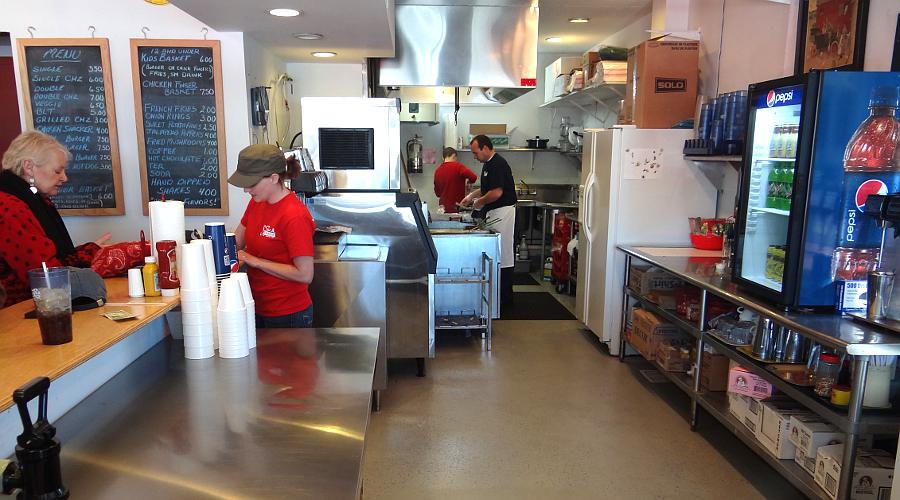 Snack Shack kitchen and counter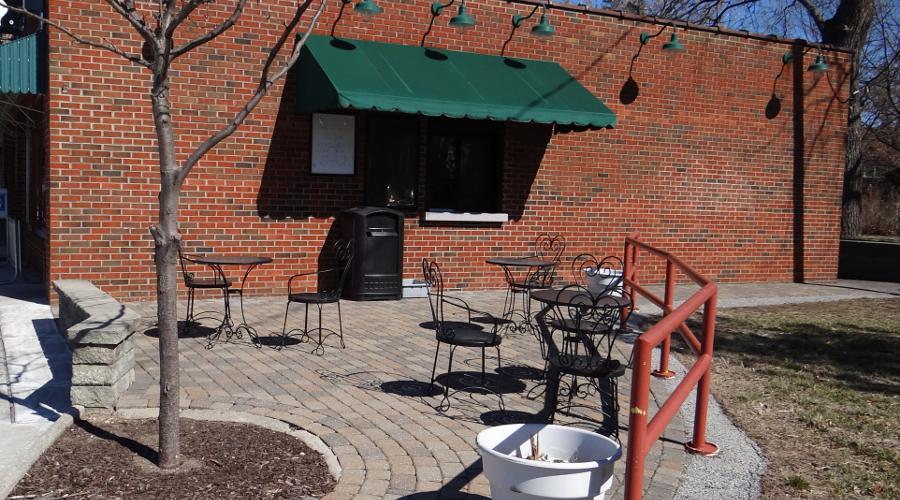 Outside dining area - the tables have changed since this photo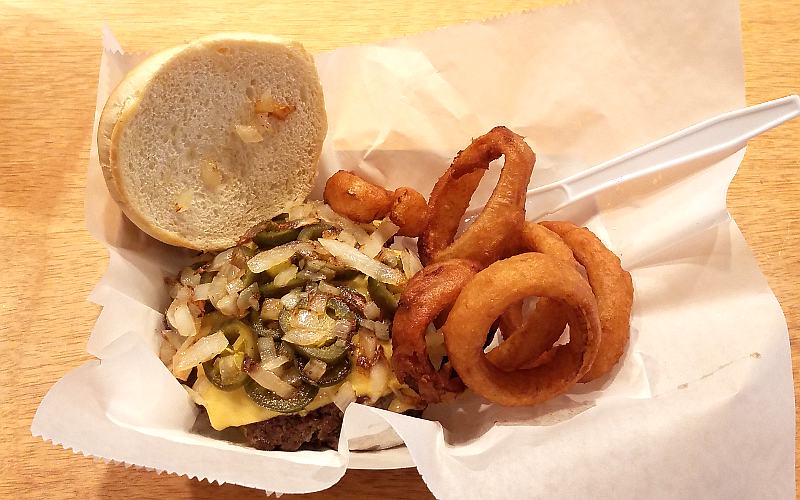 Bobby Burger has two 1/4 pound patties, four slices of cheese, grilled onions & jalapenos, tomato and shredded lettuce,
shown here with onion rings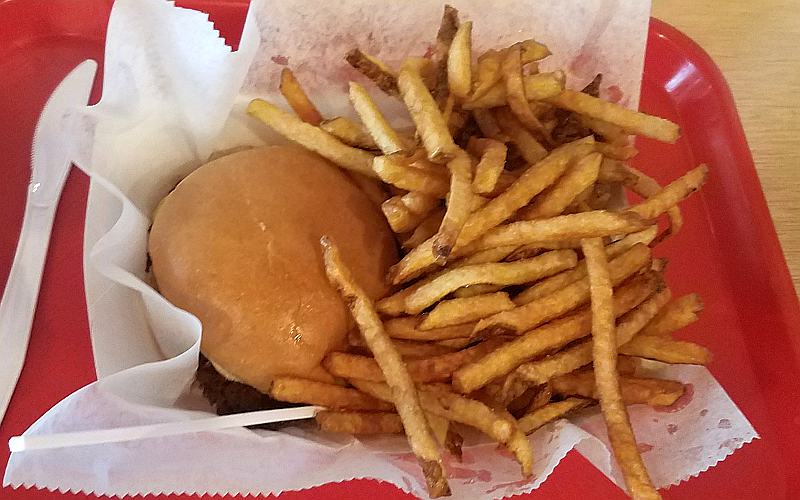 Snack Attack 1/4 burger with fries ($7)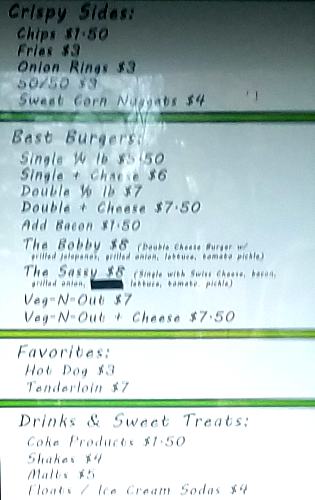 Snack Shack COVID-19 Menu from April 2020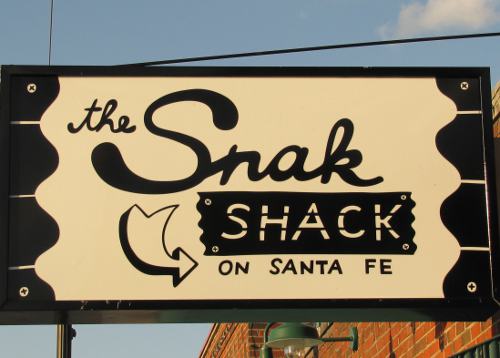 This was the sign for the old "Snak" Shack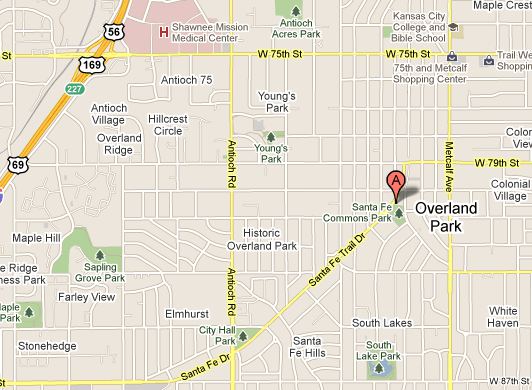 Snack Shack Map
Overland Park Restaurants & Attractions
Kansas Restaurants Kansas Travel & Tourism Home
LS-4/14 copyright 2011-2020 by Keith Stokes