The Snack Shack
on Johnson Drive
6018 Johnson Drive
Mission, Kansas 66202
(913) 381-3200

Tuesday - Friday: 11AM - 8PM
Saturday & Sunday: 11AM - 3:00PM

Snack Shack Lunch Menu Snack Shack Map

Snack Shack on Santa Fe - Overland Park, Kansas
The Snack Shack on Johnson Drive in Mission, Kansas merges two great burger traditions. The building began as a Valentine Diner which opened in 1952. It was once called Whopper Burger, but from 1985-2020 it was the third location of the small Kansas City, Missouri Town Topic chain. Meanwhile Snack Shack was operated by the Tolle family on Santa Fe in Overland Park for over a decade, out of a storefront with just counter seating for 12 people and a smaller kitchen.
The Tolles acquired this building in 2021 and Snack Shack opened in April 2022. Both the buildings in their old location and this new one have great history and tradition.
The menu is fairly limited: burgers, hot dogs, port tenderloin sandwich, crispy chicken sandwich, a house made veggie burger, three side dishes, and ice cream including shakes, sodas & sundaes.
The $5.50 single burger is a quarter pound, available as an $8 "Snack Attack: with fries. The $8.50 Bobby Burger has two 1/4 pound patties, American cheese, grilled onions and jalapenos. The Bobby and the smaller $7.5 Bob Burger are among my favorite burgers.
The meat used at Snack Shack comes from Miez Kansas City Meat. They do not ask how you would like the burger cooked, cooking them all medium well. Typically a burger takes about 10 minutes. One of the big improvements at the new location is longer hours. Snack Shack is now open for lunch on Sunday.
At least during the soft opening of this new location, they did not have fresh cut fries.

Snack Shack dinning room

Snack Shack kitchen

"Snack Attack"

Bobby Burger has two 1/4 pound patties, four slices of cheese, grilled onions & jalapenos, tomato and shredded lettuce,
shown here with onion rings

Snack Shack Menu from March 2022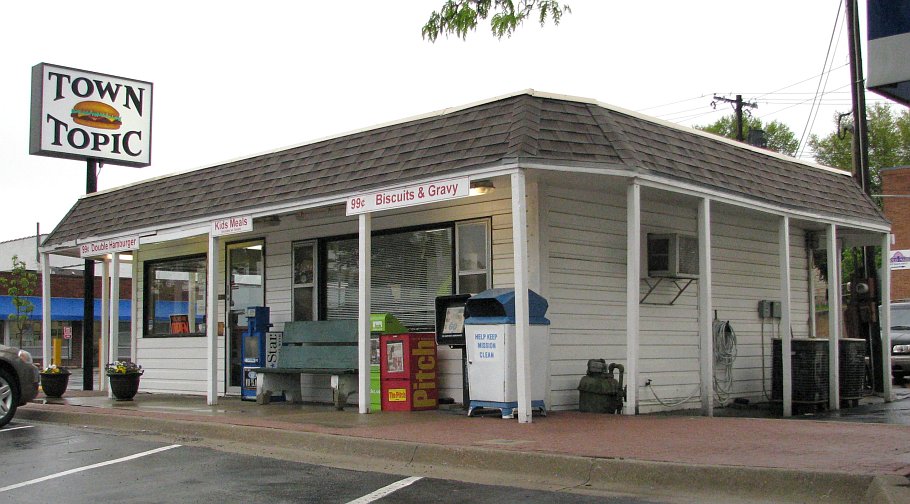 The old Town Topic

The old Snack Shack on Santa Fe

Old Snack Shack on Santa Fe counter & kitchen


Snack Shack on Johnson Drive Map
Overland Park Restaurants & Attractions
Kansas Restaurants Kansas Travel & Tourism Home
Copyright 2011-2022 by Keith Stokes