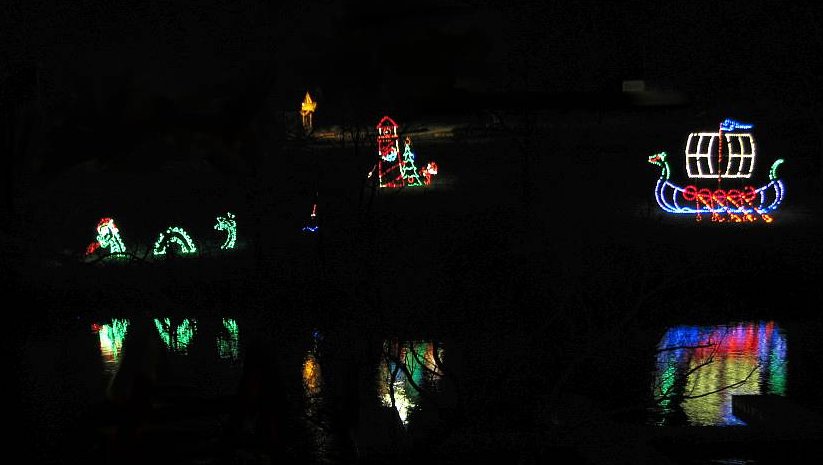 This display near the end of Topeka's Winter Wonderland is animated. The Viking ship at the right is rowing and
Cannon balls are being fired at the sea serpent. One is just entering the water between the lighthouse and serpent.
2021 is the 24th year for Topeka's Winter Wonderland, a fundraiser for TARC (A provider of support for children and adults with intellectual and developmental disabilities). In 2014, TARC's Winter Wonderland XVII set a new fundraising record. Over 11,000 vehicles enjoyed the two mile holiday light display to benefit TARC - setting a new record for funds raised at Winter Wonderland - $167,582.01
Located in Topeka, Kansas' Lake Shawnee Campground, Winter Wonderland runs from 6 - 10 PM each night from November 24 until December 31, 2021. Admission to Winter Wonderland is $10 per car and $30 for buses. Advance tickets are available at HyVee, Milk & Honey Coffee, Dialogue Coffee House, Senor Bur-Rito and Donaldson's Jewelers.
This holiday display is usually described as a 2 mile drive through light displays. But that is misleading - to add up to 2 miles, would mean that a long entrance drive with the names of the sponsors in Christmas lights is included. Twice. The real Christmas displays are less than half that distance. But I still recommend Winter Wonderland for a pleasant Drive while helping TARC.
When you enter Winter Wonderland, they will tell you what station to tune your car radio to, to hear Christmas Music and a message about TARC and the sponsors.

To reach Winter Wonderland, from SE 29th Street, drive south on SE East Edge Road. Turn west onto East Edge Road.
Winter Wonderland Special Events
There are normally three special events at Winter Wonderland before it opens for the season. Two are the Friday before opening. "Winter Wonderland Walk Through Night" is a Winter Wonderland walk through from 6-8PM and "Wheeling Wonderland" is a two wheeled tour 8-8:30PM. Suggested donation is $2/person or $1/person with a canned food item. These are canceled for 2021.
The Winter Wonderland 5K, presented by Sunflower State Games, is Saturday, November 20. $25/person. Online registration opens July 1st.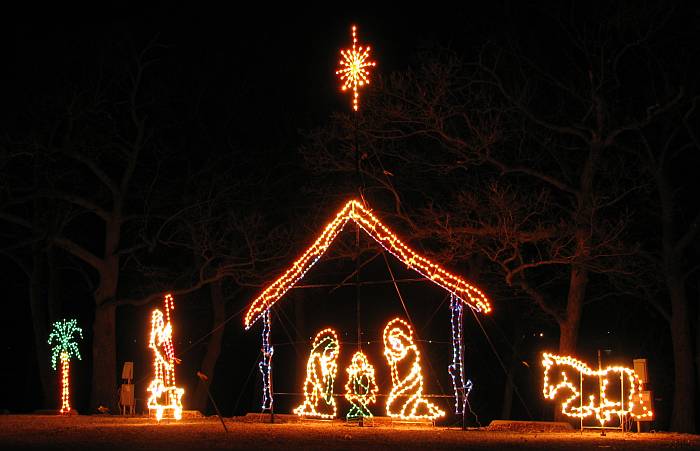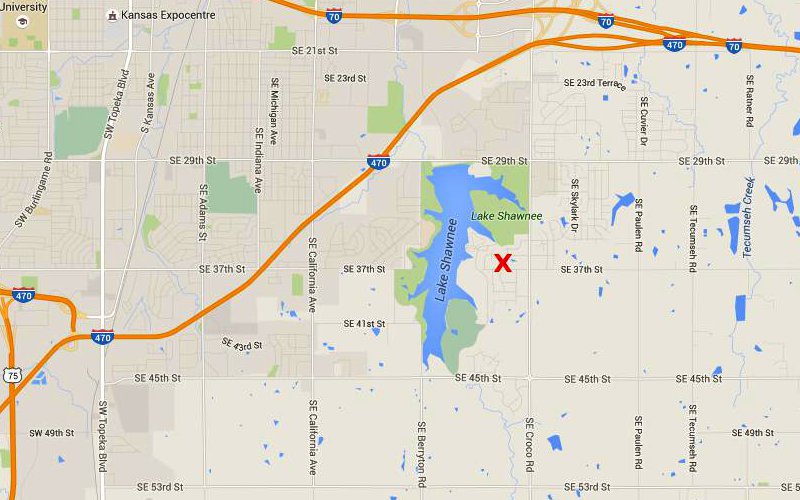 Winter Wonderland Map
Things to do in Topeka Guide Topeka Kansas Christmas Display Tour
Winter Wonderland web site
Kansas Attractions Kansas Travel & Tourism Home
copyright 2008-2021 by Keith Stokes