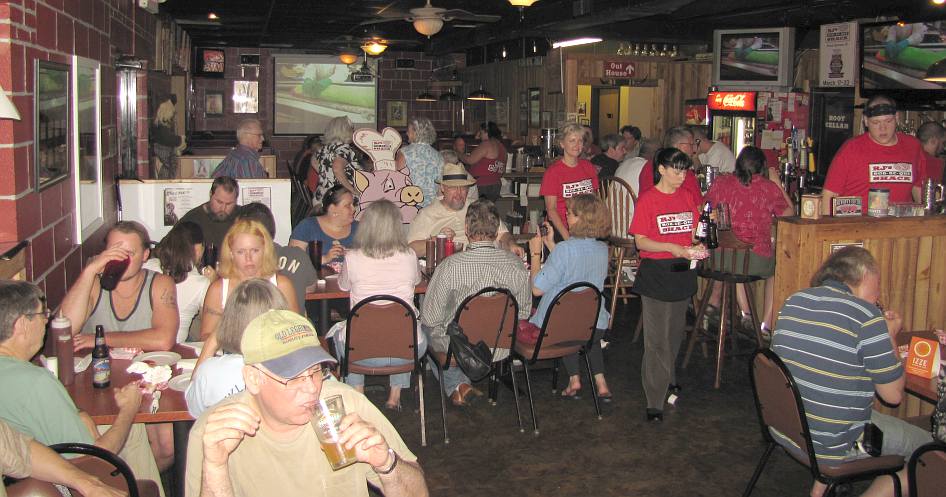 RJ's Bob-Be-Que during their watch party
I learned a few weeks early that Diners, Drive-ins and Dives was going to be featuring RJ's Bob-Be-Que in Mission, Kansas on their July 12, 2010 show. RJ's was planning a watch party for that night, but I figured it would be impossible to get a table.
On the day of the show, I learned that 4 Kansas City BBQ restaurants would be featured, with the other 3 being Johnny's Hickory House Bar-B-Q in Mission, Woodyard Bar-B-Que in Kansas City, Kansas and Smokin' Guns BBQ in North Kansas City, Missouri. Woodyard and Smokin' Guns aren't open in the evening, but RJ's and Johnny's would be open and are only about 5 blocks apart.
Linda and I drove up to Merriam and found that both restaurants were having watch parties. RJ's Bob-Be-Que was packed and we had to wait in line behind 5 others parties to place our takeout order. Linda waited on the food while I drove over to Johnny's Hickory House Bar-B-Q to order the rest. Johnny's is larger and wasn't quite as busy, so the food came quickly.
While waiting, I spoke with Johnny. He said that his daughter in California was having a party that evening with BBQ which he had shipped out. She hadn't told her friends about the TV show - that would be a surprise for them after the party began.
Returning home, we were met by several members of the team that help me review Kansas Restaurants. We enjoyed a nice selection of Que and thoroughly enjoyed the episode of the Triple D.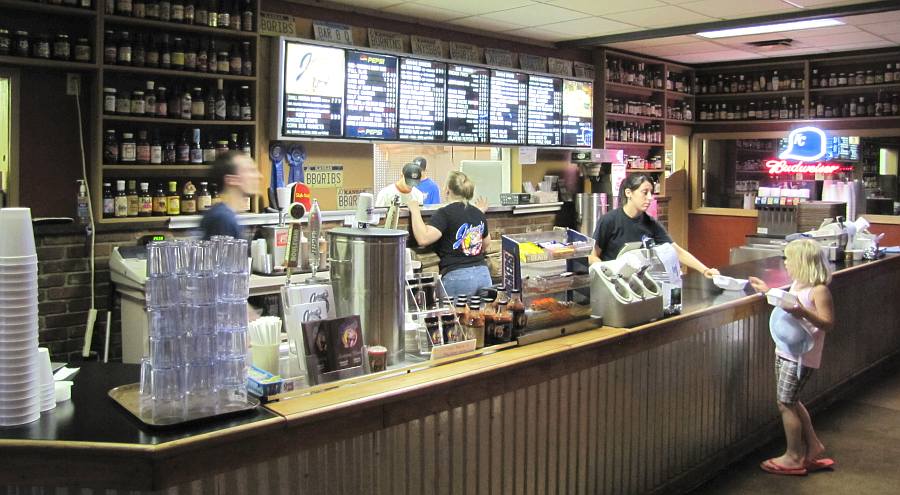 Johnny's Hickory House Bar-B-Q during their watch party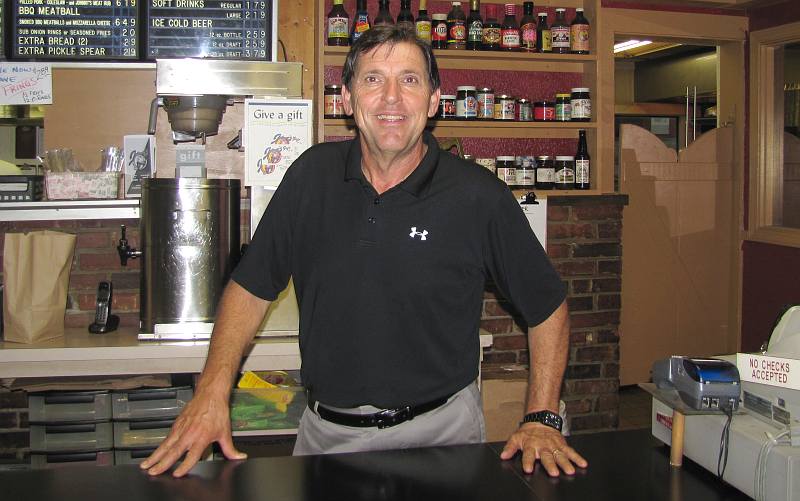 Johnny White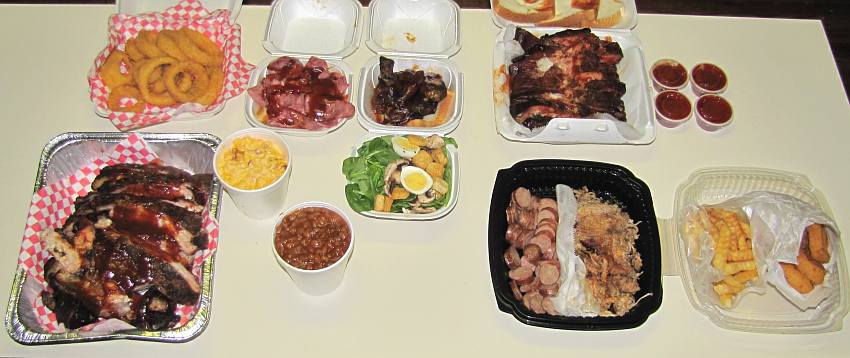 RJ's BBQ & sides at the left, Johnny's BBQ and sides at the right
Johnny's Hickory House Bar-B-Q was the winner of tonight's side by side taste testing.
While I didn't think the ribs from either restaurant were as good as I have had in the past and thought they were about even, several of our taste testers thought that Johnny's pork ribs were the best. They said that RJ's was stringy.
The verdict was split on the onion rings, but all of us gave the nod to Johnny's sausage. We also liked it that sauce hadn't been added to Johnny's meats, that we could choose how much sauce to add or not add any at all. RJ's came with sauce already loaded on top.
I liked Johnny's pulled pork, but we didn't have any of RJ's to compare. The only down side for Johnny's was that we were shorted one order of French fries.
We had several items from RJ's Bob-Be-Que that are not on Johnny's menu. The Lenexa Spinach salad and cheesy corn bake were good and I think that RJ's spicy chicken wings are great.
During the Diners, Drive-ins and Dives episode we learned that Johnny's Bar-B-Que deep fries their smoked chicken and I want to try that some time in the future. I fairly often eat at Johnny's Olathe location, but it was never obvious that they do something special with their chicken. I have had chicken done this way at Quick's Bar-B-Q in Kansas City, Kansas.
Johnny's Hickory House Bar-B-Q (913) 432-0777
5959 Broadmoor Street, Mission, Kansas 66202

RJ's Bob-Be-Que (913) 262-7300
5835 Lamar Avenue, Mission, KS 66202
On other occasions I have dined at both of the other KC BBQ restaurants featured in this episode. Smokin' Guns BBQ is only open for weekday lunch, so it is hard for me to get there. The BBQ I sampled was OK, but nothing special. I haven't had a chance to make repeated visits and try more of the items.
Woodyard Bar-B-Que is popular with many BBQ aficionados, so despite poor experiences, I have tried it several times. I give it high points for its "dive" atmosphere, but I am unimpressed with the food. The menu is very limited, with fewer meat offerings and only 5 side dishes. Woodyard's meat is much too smoky for my taste. Hours after eating Woodyard's meat, I still have an unpleasant charcoal taste in my mouth.
During my most recent visit to Woodyard Bar-B-Que, they lost my order entirely. After waiting for the food a long time, I finally went back to the counter. They just barely said they were sorry and did finally prepare my meal. They did nothing to try to make good on the error.
Woodyard Bar-B-Que (913) 362-8000
3001 Merriam Lane, Kansas City, Kansas 66106

Smokin' Guns BBQ (816) 221-2535
1218 Swift Avenue, Kansas City, Missouri 64116
copyright 2008-2015 by Keith Stokes