| | |
| --- | --- |
| Barack Obama's Ancestors Graves in Kansas | Hard Rock Cemetery in Salt Creek Township |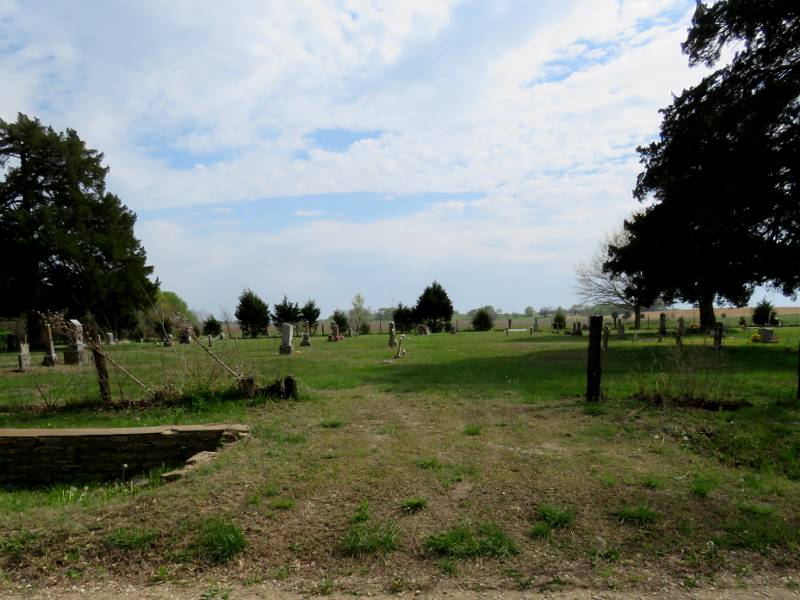 Fairview Cemetery where Fulmoth Kearney and Charlotte Holloway Kearney are buried
Our search for President Barack Obama's Kansas Ancestors began when we learned that the grave of the most recent immigrant on the President's mother's side of the family had been tracked down to a unmarked grave in a rural cemetery southwest of Oswego, Kansas. Other descendants of Fulmoth and Charlotte Kearney had recently placed a marker on the grave, including the caption that they were the "Great Great Great Grandparents of President Barack Obama."
While researching the Kearneys' background to prepare a page about the grave and marker, we learned that many more of the President's ancestors were buried in Kansas. There are 16 in total at 9 cemeteries. 2 of them turned out to be buried only a mile from my home and had been members of my church. The generations run from both sets of great grandparents, back to a great-great-great-great grandmother.
We have since visited all of the cemeteries where President Obama's Kansas ancestors are buried. 4 of the graves are unmarked and we are considering a GoFundMe campaign to provide markers.
| | |
| --- | --- |
| El Dorado, Kansas - Sunset Lawns Cemetery in El Dorado is the final resting place for President Obama's great-grandmother, Ruth Lucille Armour Dunham. She died in 1926 at the age of 26. Her husband, Ralph Waldo Emerson Dunham, is buried in Wichita, Kansas | |
| Fairview Township, Kansas - Fairview Cemetery in rural Fairview Township, southwest of Oswego, Kansas is the burial place of President Obama's great-great-great grandparents, Fulmoth Kearney and Charlotte Holloway Kearney. Their graves were unmarked until 2014. Charlotte died on September 11, 1877 and Fulmoth died March 21, 1878. | |
| Lenexa, Kansas - Lenexa Cemetery in Lenexa is the final resting place of President Obama's great-great grandparents, Della Wolfley Payne and Charles Thomas Payne. Della died following the birth of their 8th child in 1906. Charles lived to be 78 and died in Kansas City, Missouri on February 11, 1940. There is no marker on his grave. | |
| Olathe, Kansas - Olathe Memorial Cemetery in Olathe is the burial place for President Obama's great-great-great grandfather, Robert Wolfley, and great-great-great-great grandmother, Ada Wright Abbott. Robert died on July 17, 1895 at the age of 60. Ada was Robert's mother-in-law. She was buried on April 10, 1882 and her grave is unmarked. | |
| Peru, Kansas - Peru Cemetery in Peru is the final resting place of President Obama's great-great grandparents, Thomas Creekmore McCurry and Margaret Belle Wright McCurry. Margaret lived until 1935 and Thomas lived until 1939. Both died in Peru. | |
| Salt Creek Township, Kansas - Hard Rock Cemetery in Salt Creek Township of Chautauqua County in southeast Kansas is the final resting place for President Obama's great-great-great grandparents, Reverend Joseph Samuel Wright and Frances Allred Wright. Reverend Wright died in Hale, Kansas on April 29, 1894 and Frances died in Hale on May 25, 1918. | |
| Wichita, Kansas - Resthaven Gardens of Memory in Wichita, Kansas is the final resting place for Ralph Waldo Emerson Dunham, great grandfather of President Barack Obama. Ralph died on October 4, 1970 and is buried with his second wife, Martha Mae Stonehouse, His first wife, Ruth Lucille Armour Dunham, is the President's great grandmother. She died in 1926 and is buried in El Dorado, Kansas. | |
| Wichita, Kansas - Wichita Park Cemetery and Mausoleum in Wichita is the final resting place of President Obama's great-great grandparents, Dr. Jacob William Dunham and Mary Ann Kearney Dunham. Jacob died in 1930 and Mary died in 1936. They are buried in unmarked graves in Lot 188 Spaces 2 & 3 in the Acacia section of the cemetery. | |
| Winfield, Kansas - Highland Cemetery in Winfield, Kansas is the burial site of Leona Belle McCurry Payne and Rolla Charles Payne, great grandparents of President Barack Obama. Leona and Rolla married in Peru, Kansas on December 28, 1921. Leona and Rolla both died in 1968. | |
LS-8/16 copyright 2016-2019 by Keith Stokes