Miners Memorial

200 North Walnut Street
Pittsburg, Kansas 66762
(620) 231-8310

Open daylight hours Free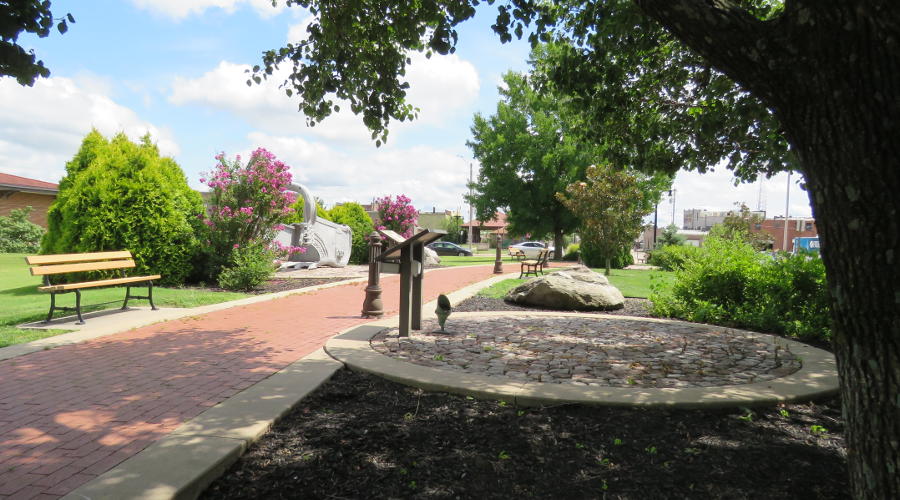 Miners Memorial - Pittsburg, Kansas
The Miners Memorial in Pittsburg, Kansas honors the coal miners in the Weir-Pittsburg Coal Field in Cherokee and Crawford Counties. It is estimated that over 10,000 miners worked in the area. The monument is an extension of Immigrant Park, which includes a pavilion, a 19th century Pittsburg mural and a children's play area.
The Miners Memorial is a curving walk anchored at the west end by nine black polished monuments and a larger than life statue of a miner. The walk has several signs telling the history of mining in Crawford County and a couple of artifacts from mining, with locations prepared to add more. The first mine opened in 1874 and coal production continued until the mid 1970s. 2/3 of all the coal mined in the state of Kansas came from the Weir-Pittsburg Coal Field, also known as the Pittsburg-Weir Coalfield or Cherokee Coalfield.
Thousands of people came to southeast Kansas to work the coalfield. Most were European immigrants and over fifty nationalities settled in the area. Eventually the Weir-Pittsburg Coal Field had over 100 coal camps at the same time and a total of nearly 300 coal camps This region produced a third of the bituminous coal in the United States. The surrounding three state area was also the leading zinc mining district in the world for nearly half a century and produced much lead ore.
The worst mining disaster in the state of Kansas was an explosion at Cherokee and Pittsburg Coal Company Frontenac Shaft No. 2 on November 9, 1888. An explosive charge being used to break up the coal set off a coal dust explosion which set off explosions in nearby kegs of black powder. 44 miners were killed, some as young as 13 years old.
More can be learned about the mining in southeast Kansas at the Baxter Springs Heritage Center, Big Brutus, Crawford County Historical Museum, Galena Mining & Historical Museum and Miners Hall Museum.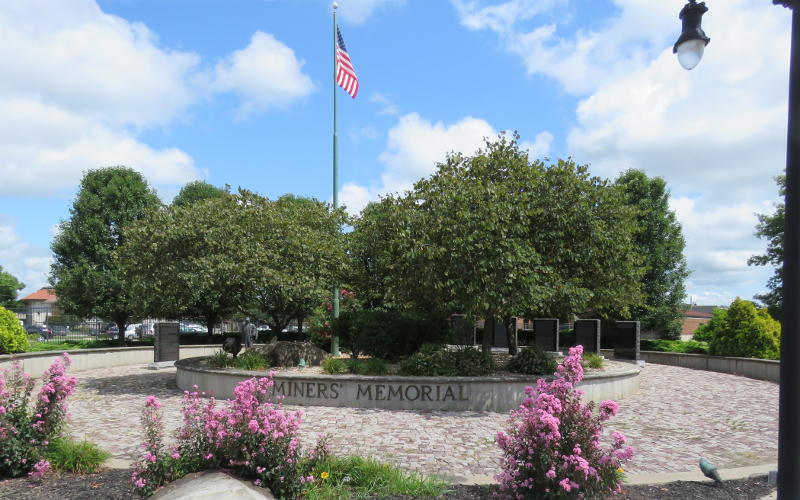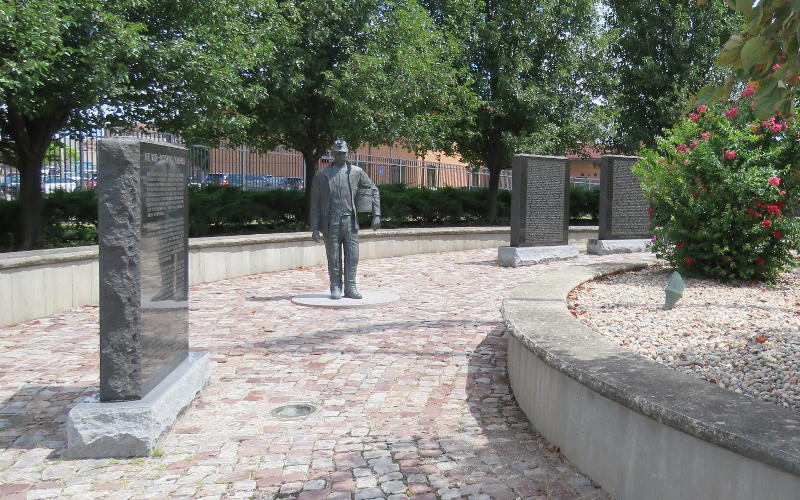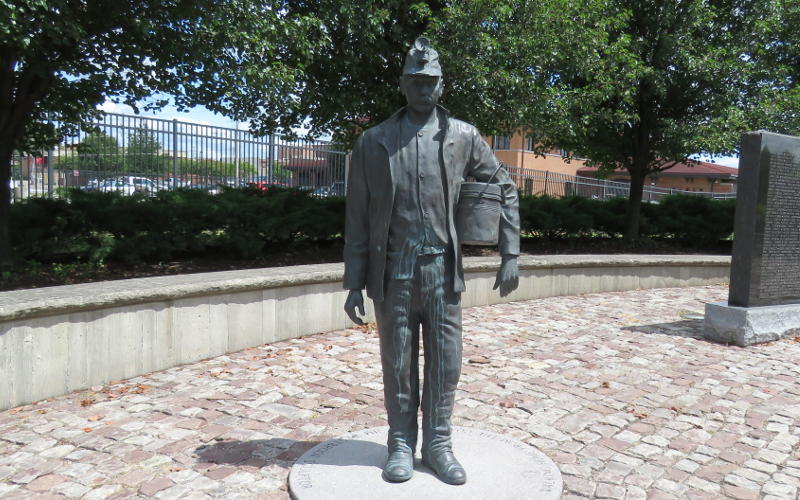 Bronze sculpture by Jim Westbrook depicting a coal miner returning home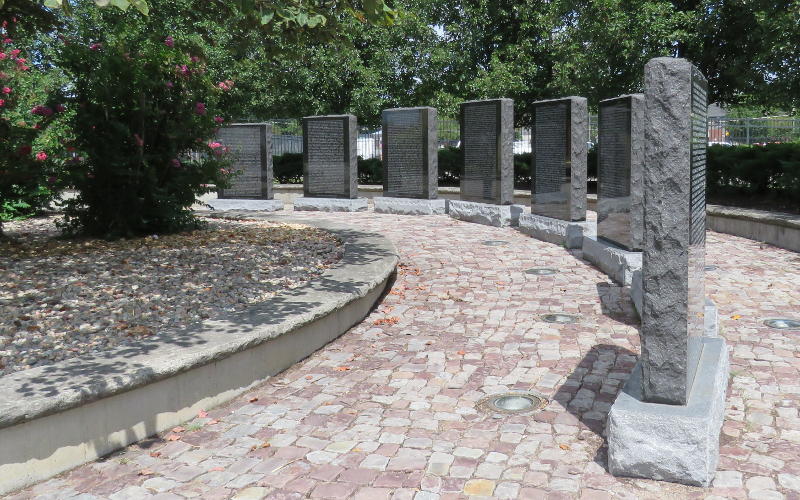 Granite monuments inscribed with the names of miners who worked in the Pittsburg-Weir coalfields
A star by the name indicates the worker died as a result of working in the mines.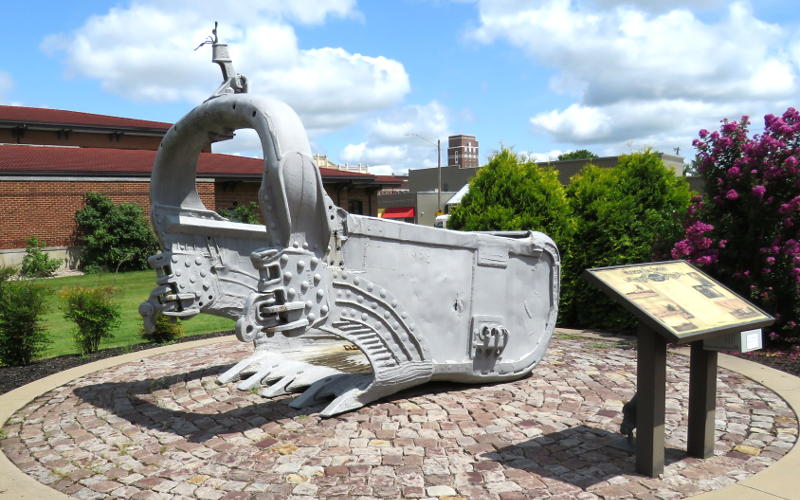 Dragline bucket used to remove overburden in strip mining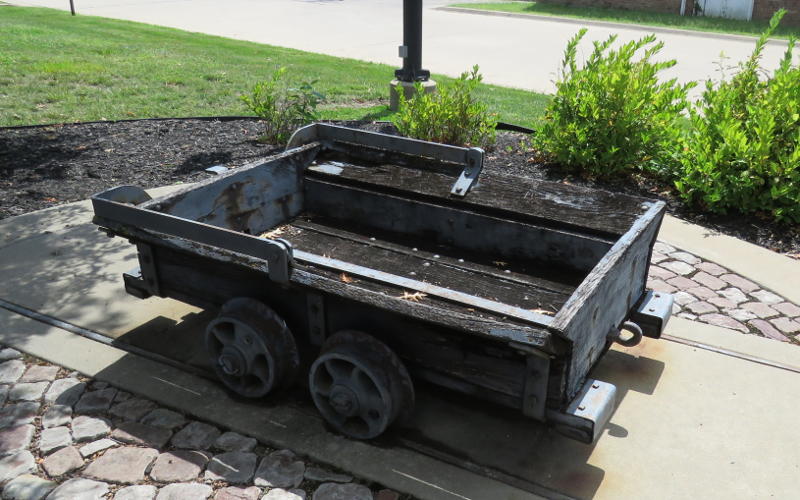 Coal car rebuilt using original wheels from a mine car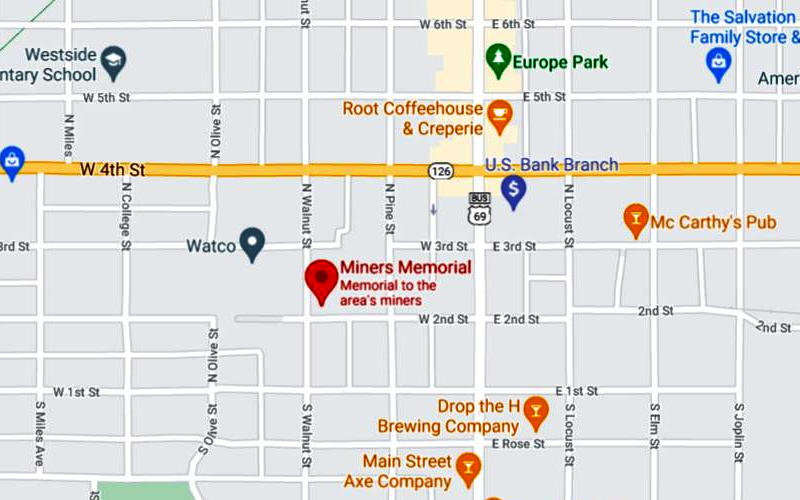 Miners Memorial Map
Miners Memorial web site
Kansas Attractions Kansas Travel & Tourism Home
copyright 2021 by Keith Stokes