Galena Mining and Historical Museum

319 West 7th Street
Galena, Kansas 66739
(620) 783-2192

Open
1 PM - 4 PM Monday, Wednesday, Friday
or by appointment at (417) 439-3234
Free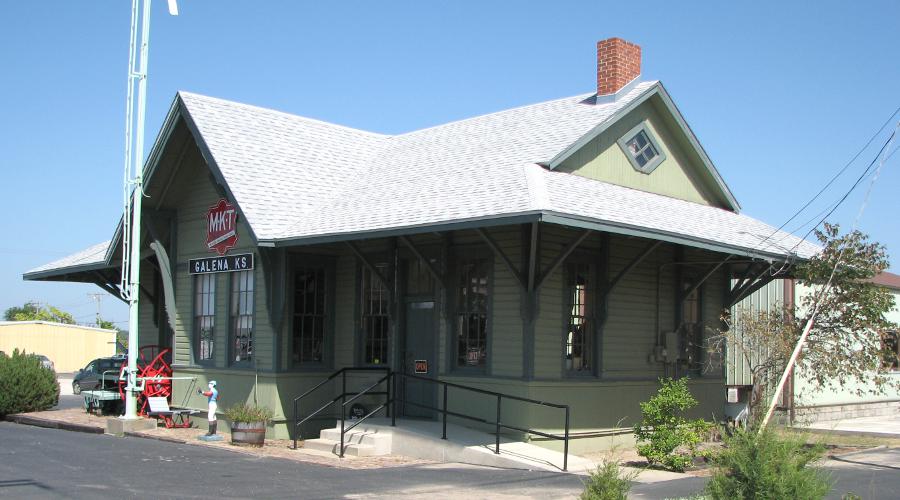 MKT Depot housing the Galena Mining and Historical Museum in Galena, Kansas
The Galena Mining & Historical Museum is an interesting stop along Historic Route 66. Basically staffed by 3 volunteers, the off season hours are irregular, but they will make every effort to accommodate folks interested in the history of the community of Galena, Kansas.
At first glance, the Galena Mining & Historical Museum is tiny, occupying an old Missouri-Texas-Kansas railroad depot that was moved from another location on Route 66 in Galena. But there is a much larger building tucked away behind the depot.
Features unique to the Galena Museum are a large display of mineral specimens, mining equipment and a model of the Grand Central Mine which was located just east of Galena in Central City, Missouri.
Also featured at the Galena Mining & Historical Museum is a collection of oil paintings titled "Abandoned Mine Scenes" by local artist Carol Bliss-Riley. Originally displayed in the Smithsonian Institution from 1969 and 1974 the painting depict old mine scenes from the Missouri, Kansas and Oklahoma area. Her husband, DeVaughn, made most of the frames from wood from the buildings being depicted in each picture.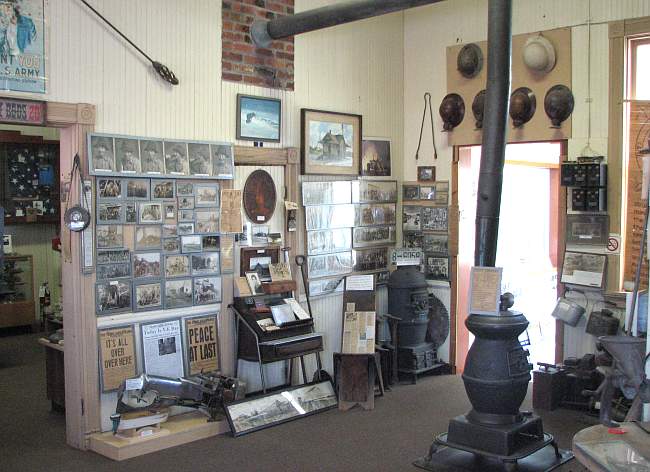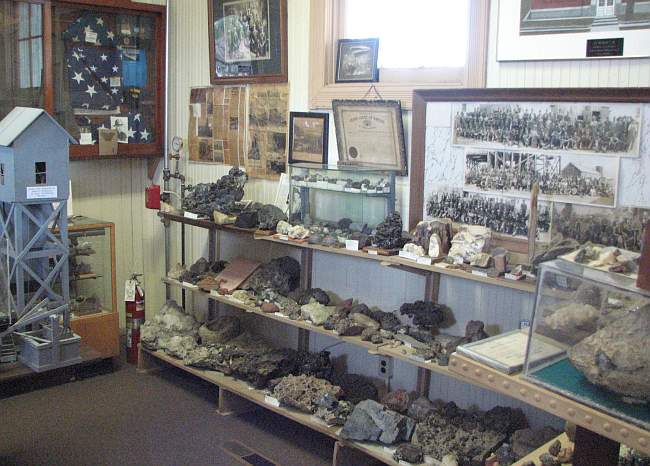 Portion of the mineral samples originally collected by the late Howard Litch, the museum's founder.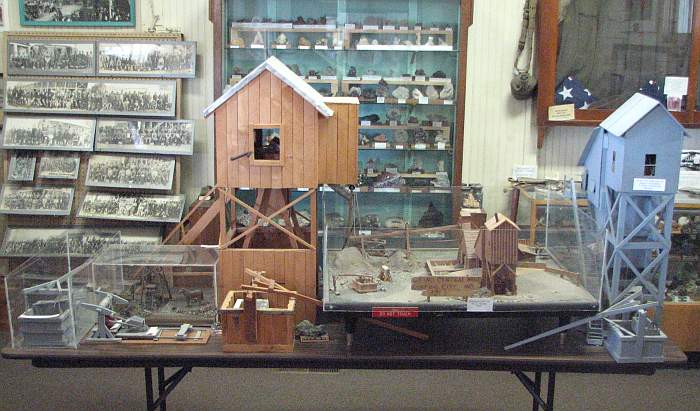 Grand Central Mine 1913 - model created by Bill Toney in 1970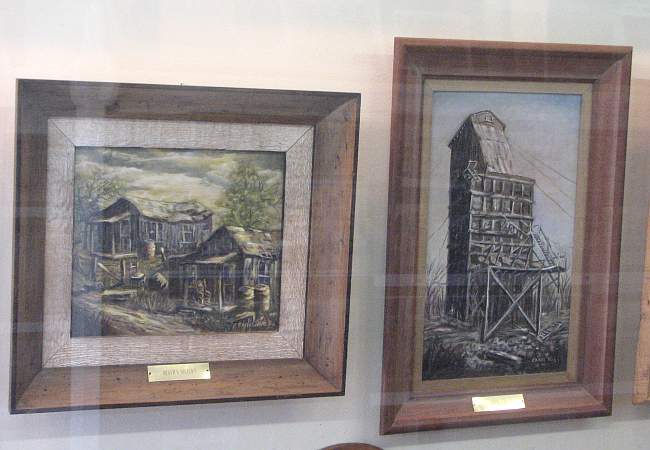 Oil Paintings from the Abandoned Mine Scenes collection by Carol Bliss-Riley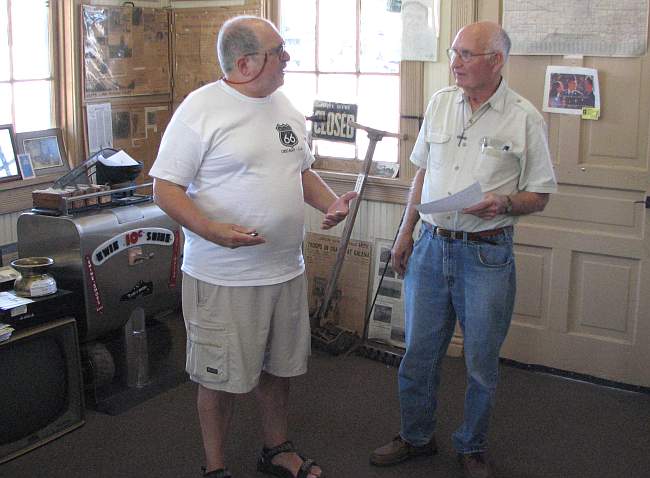 jan howard finder (driving Route 66) and Bill Toney (one of the 3 volunteers keeping the museum open).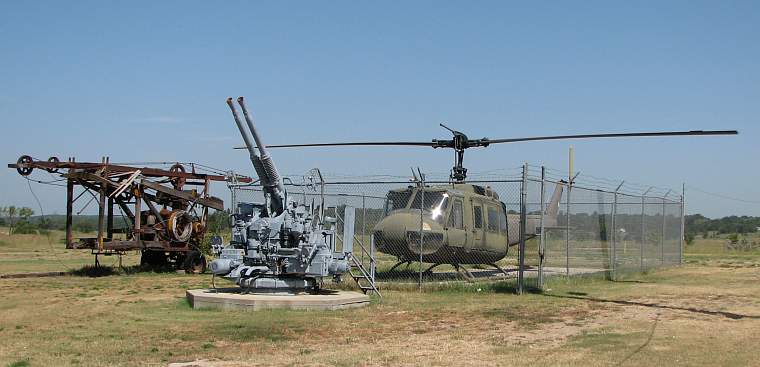 Military equipment on display behind the Galena Mining & Historical Museum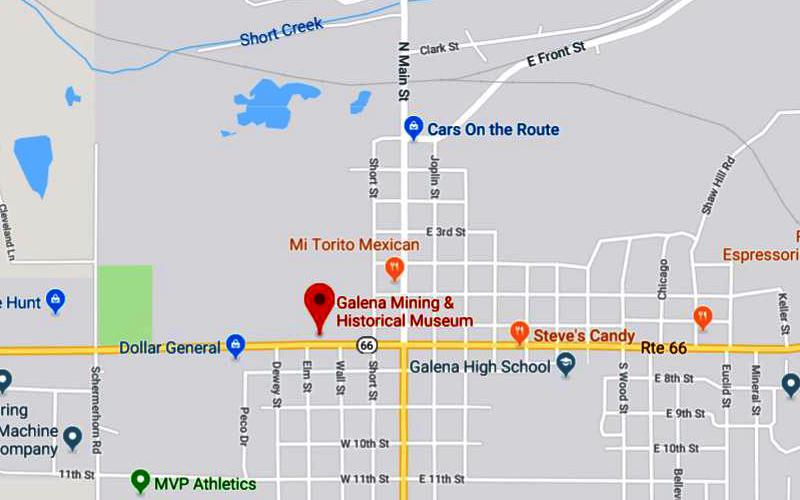 Galena Mining and Historical Museum Map
Route 66 in Kansas
Galena Galena 2 Riverton Baxter Springs Empire Power Dam Falls
Cars on the Route Galena Mining and Historical Museum
Eisler Brothers Store Baxter Springs Heritage Center
Schermerhorn Park & Southeast Kansas Nature Center
copyright 2007-2022 by Keith Stokes