Mike's
Cafe on the Route
1101 Military Avenue
Baxter Springs, Kansas 66713
(620) 856-5646

Tuesday, Wednesday: 5:30AM to 7PM
Thursday - Saturday 5:30AM to 8PM
Sunday: 5:30AM to 2PM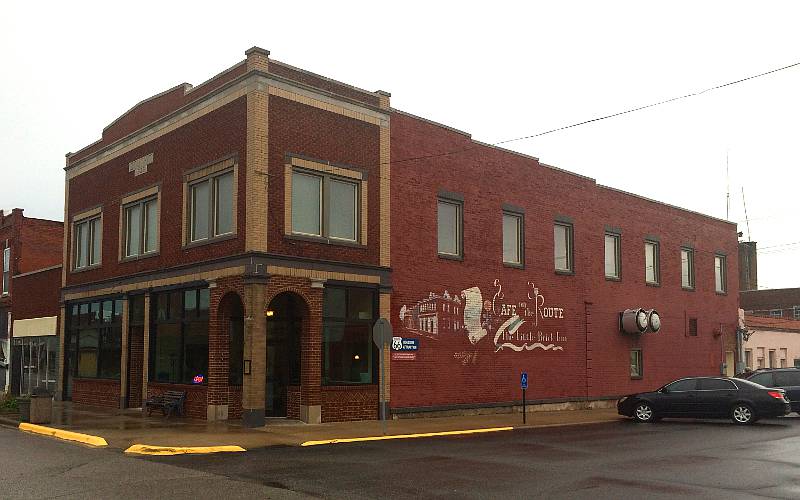 Cafe on the Route is on the west side of Route 66 in the former Crowell Bank Building.
The present Mike's Cafe on the Route in Baxter Springs, Kansas is the second "Cafe on the Route" at this location. The first one (the one which was on Diners, Drive-Ins and Dives) suddenly closed on January 6, 2013. New owners purchased the building in the following year and after several months of work, reopened the restaurant in late 2014. There are some photos and comments about that original restaurant at the bottom of this page.
At first glimpse, Mike's new restaurant looks much the same, but the ground level front exterior of the building is now much more handsome. Inside, they added a second dining room and expanded the main room.
The menu is dramatically changed. Mike's Cafe on the Route is a "meat and potatoes' kind of place. The food is well prepared and the prices are still very reasonable. The onion straw appetizer was quite good, as were the rib eye and salmon, which were the two most expensive items on the menu. Our meal for two came to $37 with tax, but most meals are in the $7-11 range.
The Cafe on the Route occupies the 1870 Crowell bank building. Crowell Bank was robbed in 1876 by Jesse James and Cole Younger. In the Cafe's previous incarnation the Little Brick Inn (bed & breakfast) was located upstairs. As of June 2015, the B&B has not reopened, but our server said they are working on remodeling and plan to open the rooms in the future.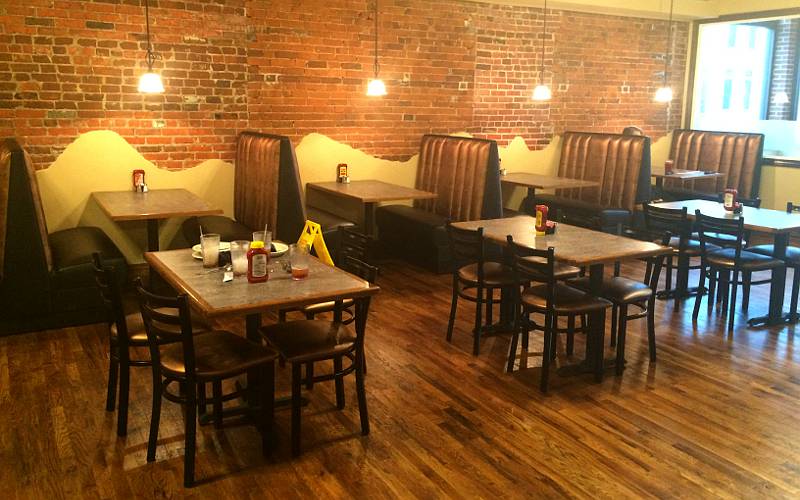 Mike's Cafe on the Route main dining room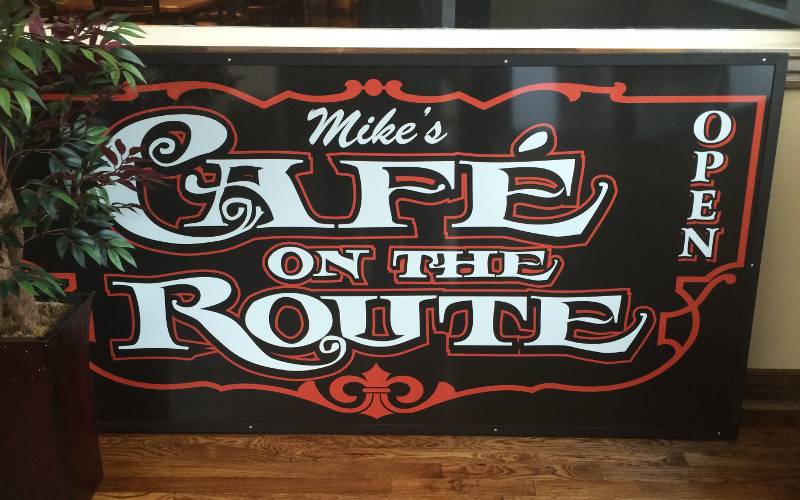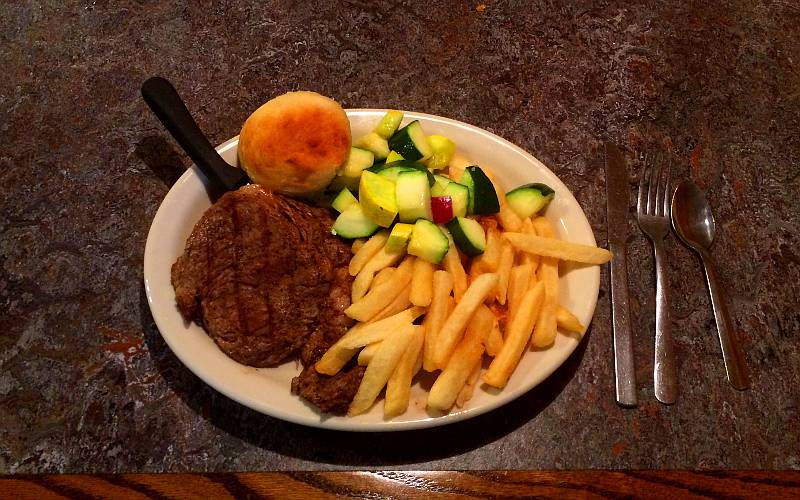 Rib eye steak with vegetables and French fries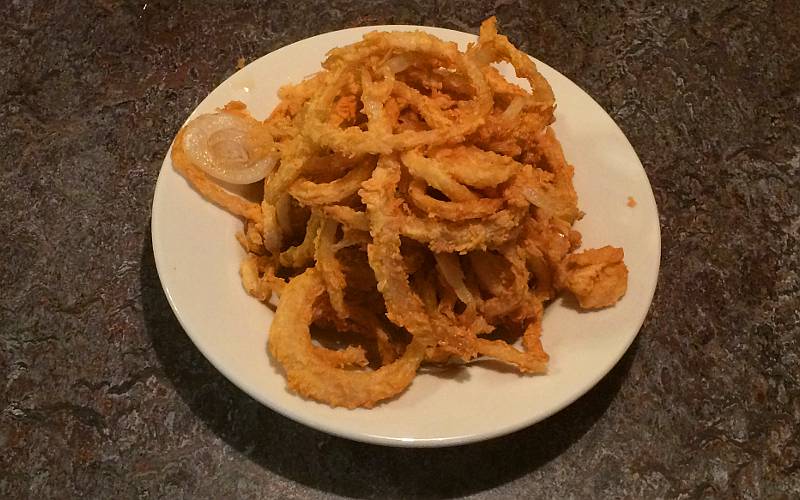 onion straws
| | |
| --- | --- |
| Cafe on the Route menu | Cafe on the Route entrees & sandwiches |
The photos below are from the original Cafe on the Route which operated at this location until 2013 and was featured on the Food Network's Diners, Drive-Ins and Dives. The menu had many unique, interesting, reasonably priced offerings. This was a place to go for awesome, innovative dishes.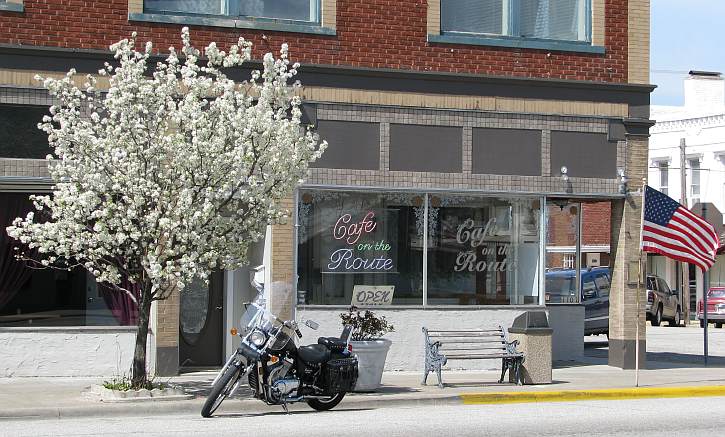 Cafe on the Route in 2008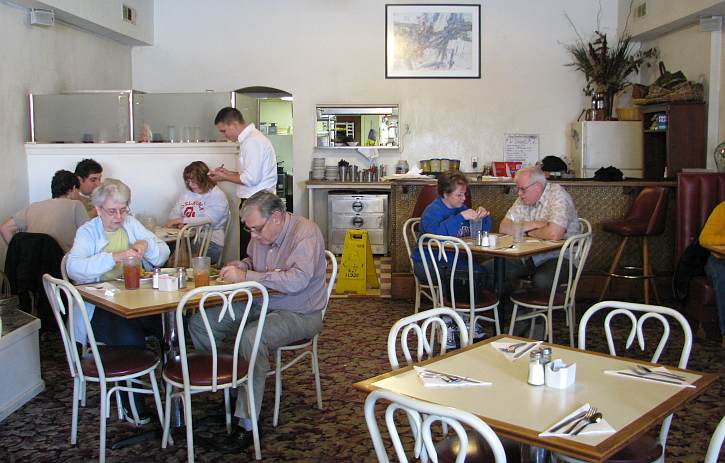 The much smaller dining area at the original Cafe on the Route during a busy Saturday lunch hour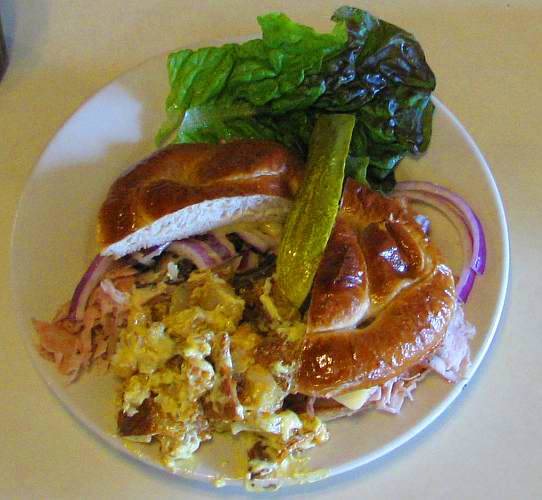 Fried potato salad and a smoked turkey pretzel - smoked turkey served with havarti cheese
red onions, grilled portabella and a spicy dijon glaze on pretzel bread - at the original restaurant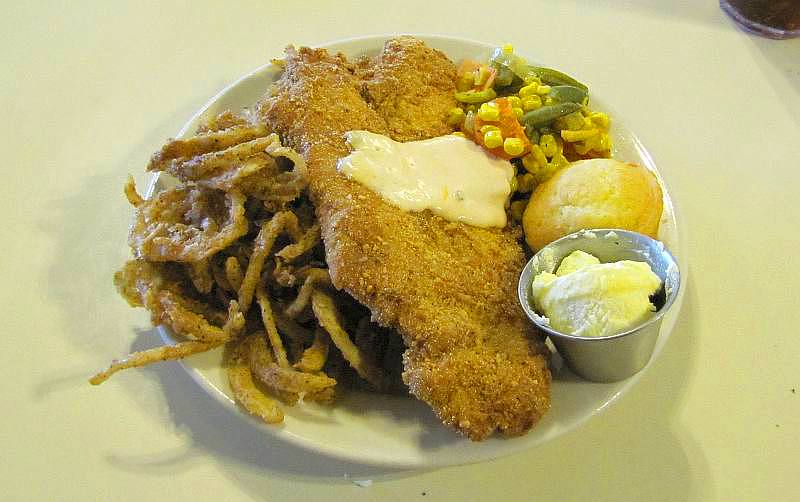 Nut crusted catfish at the first Cafe on the Route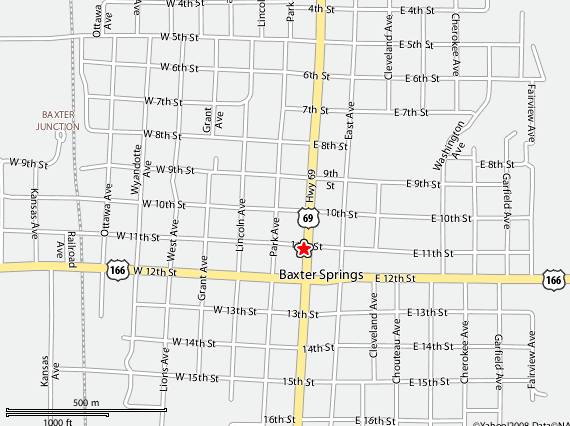 Cafe on the Route Map
Route 66 in Kansas
Galena Galena 2 Riverton Baxter Springs Empire Power Dam Falls
4 Women on the Route Galena Mining and Historical Museum
Eisler Brothers Store Mike's Cafe on the Route Baxter Springs Heritage Center
Schermerhorn Park & Southeast Kansas Nature Center
LL01/10 copyright 2007-2015 by Keith Stokes