Cafe on the Route

1101 Military Avenue
Baxter Springs, Kansas 66713
(620) 856-5646

Closed January 6, 2013

Cafe on the Route Map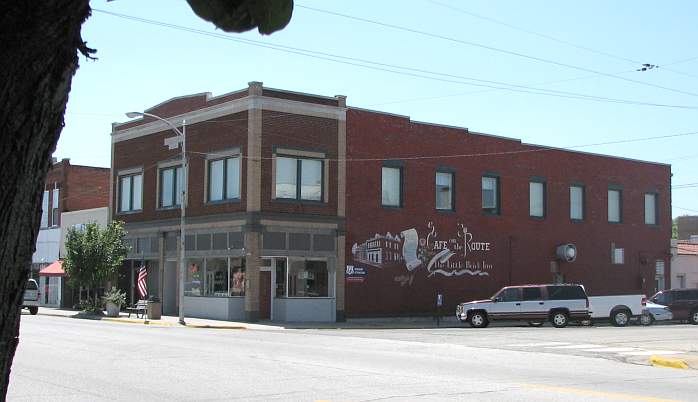 Cafe on the Route is on the west side of Route 66 in the former Crowell Bank Building.
The Cafe on the Route closed in January 2013. This is an archive page.
The Cafe on the Route and the Little Brick Inn (bed & breakfast) occupy the 1870 Crowell bank building in Baxter Springs, Kansas. Crowell Bank was robbed in 1876 by Jesse James and Cole Younger. The food is good, the menu is varied & interesting, and the Cafe on the Route is very reasonably priced.
Most sandwiches and lunch entries are priced between $5.50 and $6.50. They come with choice of soup, salad or fruit salad, and choice of potato. I particularly recommend the Cafe on the Route's Cowtown Brisket - a generous sandwich with good smoked brisket, bacon, onions, tomato and cheddar cheese for $5.75. I think you will be equally pleased with Cafe on the Route's fried potato salad.
Most Cafe on the Route dinner selections range from $8.25 to $14.50, with many complete meals under $10. The most expensive meal offered is Chateaubrand for for two for $40.
During my most recent meal at Cafe on the Route in 2010, I had the nut crusted catfish (7 ounce catfish with cornmeal, almonds and walnuts served with Ozark sauce). It came with vegetables, wild rice, the choice of salad/fruit/soup and a choice between several potato dishes or tobacco onions for just $7.
The salad was very good. It came with heavy flavorful crackers and a tasty house bleu cheese dressing. The catfish filet was so large that it looked like a pork tenderloin. The cornmeal nut coating was distinctive and worked well with the unique house tartar sauce. The tobacco onions turned out to be in the style of the Durkee French Fried Onions that are popular on casseroles. I had mixed feelings about the taste of their coating.
My only complaint about Cafe on the Route is that they have trouble providing prompt service when they are busy - not that they don't try. But with food so good and reasonable, I am more than willing to overlook a few miscues.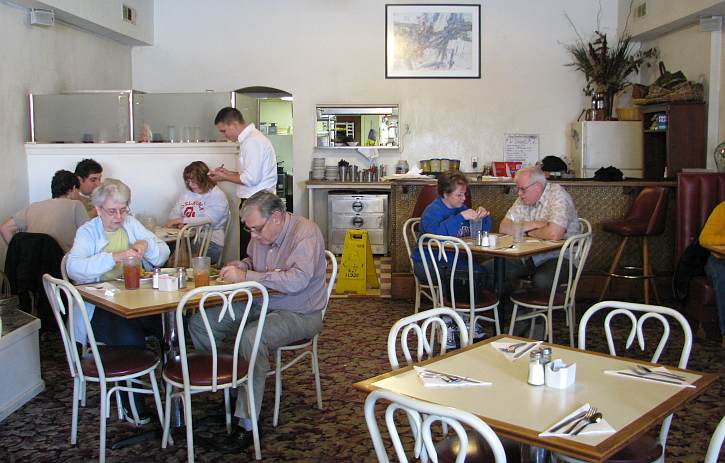 Cafe on the Route during a busy Saturday lunch hour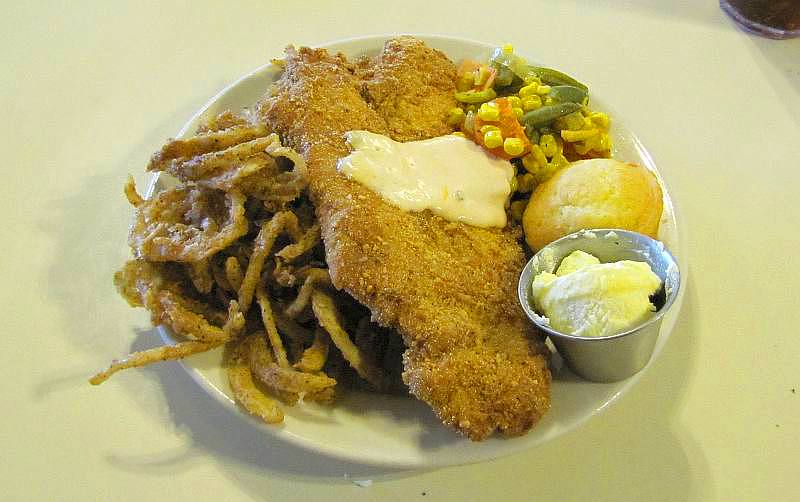 nut crusted catfish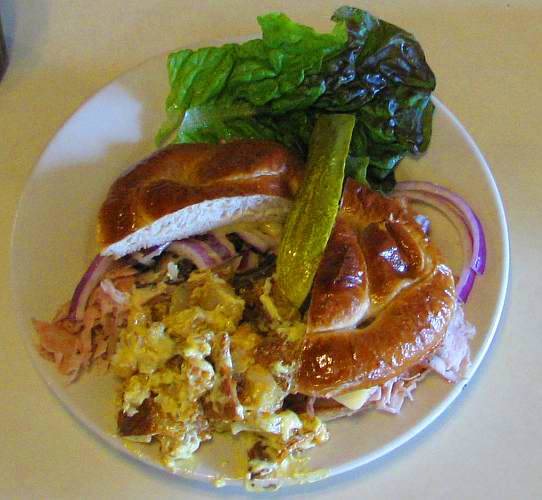 Fried potato salad and a smoked turkey pretzel - smoked turkey served with havarti cheese
red onions, grilled portabella and a spicy dijon glaze on pretzel bread.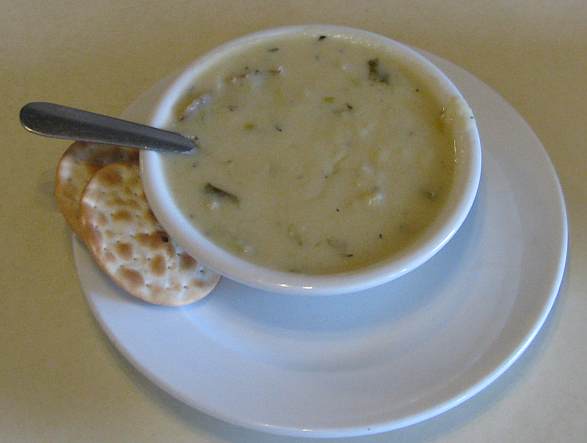 Cream of baked potato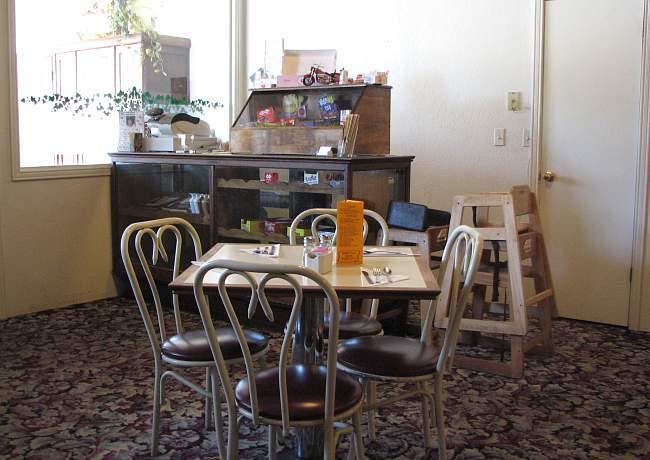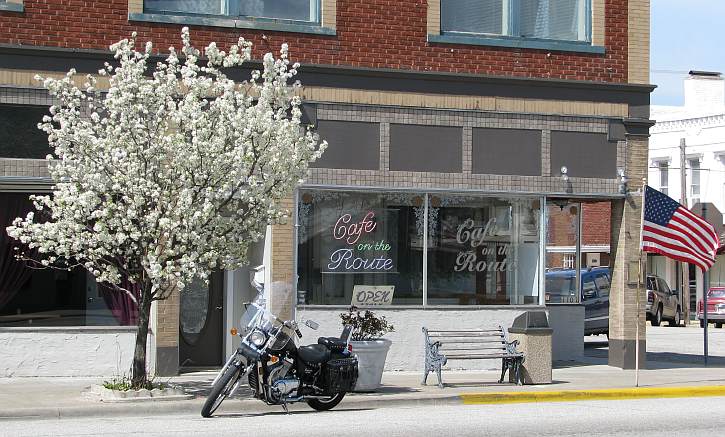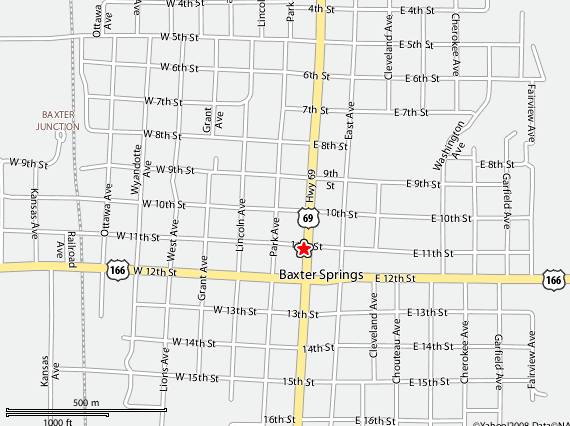 Cafe on the Route Map
Route 66 in Kansas
Galena Galena 2 Riverton Baxter Springs Empire Power Dam Falls
4 Women on the Route Galena Mining and Historical Museum
Eisler Brothers Store Cafe on the Route Baxter Springs Heritage Center
Schermerhorn Park & Southeast Kansas Nature Center
LL01/10 copyright 2007-2013 by Keith Stokes