Friday - March 1,, 2013: This evening, Linda and attended a typical lenten fish fry, conducted by the Knights of Columbus at Sacred Heart Catholic Church in Shawnee. Over 440 people were served from a seafood buffet which included, fried & baked tilapia, baked salmon and fired popcorn shrimp. It was a good meal for $11, though they were running short of many items 45 minutes before the dinner ended at 7:30PM.

The dinner continues from 5-7:30PM every Friday through March 22.
Saturday - March 2, 2013: A few minutes aft 6PM, I saw a FaceBook post by Erika Nelson, creator of the World's Largest Collection of World's Smallest Versions of World's Largest Things. It said that she was presenting a program on "Hucksters, Barkers, and Sideshows" at the Lawrence Percolator at 7PM. We made a quick decision, headed out of the house and arrived at the Percolator at 6:55.

Actually, we arrived at it's address, 913 Rhode Island, and found an ordinary home in a residential neighborhood, just east of downtown Lawrence. It turned out that the Percolator is located in the alley behind that address. The Lawrence Percolator is the project space of the Lawrence Corporation for the Advancement of the Visual Arts.

The small space was filled with exhibits from the World's Largest Collection of World's Smallest Versions of World's Largest Things plus some carnival & sideshow type displays. There was limited seating and Erika's presentation was viewed by an overflow crowd of over 30 people.

The program began with the history of medicine shows, and went on to discuss the infamous "goat gland doctor," John R. Brinkley of Milford, Kansas. It concluded with the story of carnivals based in Kansas and carnival manufacturers who were from Kansas.

While we were in Lawrence last night, we visited Intorno, a classic Italian cuisine restaurant which open in November on downtown Massachusetts Street in the former Esquina's location. The sausage and spinach cannolis were only luke warm, but the pork tenderloin Siciliano was very good and Linda thought the chicken spedeni was the best she has ever had.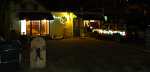 Lawrence Percolator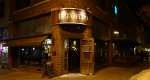 Intorno
Sunday - March 3, 2013: A new review of Renee Kelly's Harvest in Shawnee, Kansas was added to the Unique Kansas Restaurants page.

Dinner was at Lucky Brewgrille in Mission. It was our second visit to this restaurant. The first was in January 2012. It was good, but not unique enough to make the Unique Kansas Restaurants page. The $9 creamy cheese crab dip was warm and tasted good. It came with much more pita bread and tortilla chips than would ever be used.

Linda selected the $12 red hot chicken skewers, though she requested that they not be that spicy. That resulted in their not being spicy enough. The loaded baked potato that came with it was quite good. I repeated the $24, 14 ounce Star Canyon Ribeye which was chili crusted and seared over a hot flame. The medium rare was medium, but that was what I really wanted. It was a good steak, although I think it would benefit from a little less salt.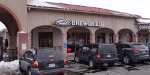 Lucky Brewgrille