Sunday - December 1, 2013: Having returned from Connecticut, tonight was our first night of checking on Christmas Light Displays for our Johnson County Christmas Tour. We began with the far north portion of Johnson County and drove along County Line Road where we already included a couple of major displays which were across the street in Wyandotte County. Following up on a tip, we discovered two more displays which were a in the first block of South 46th Terrace, which we have added to what we are now calling the Far North Johnson County & South Wyandotte County Tour.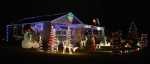 Deckard Family Christmas display
Friday - December 6, 2013: After having been out checking displays in Johnson County this week, tonight we drove over to Lawrence, to confirm the displays which were in last years Lawrence Christmas Light Tour. Most displays remain from 2012 and the multi family neighborhood lights near the intersection of Wildwood Drive and Woodridge Drive were more impressive than ever.

While we were in Lawrence, we checked out Buffalo Bob's BBQ on Massachusetts Street, downtown. We went with the Family BBQ Dinner, with brisket, ham, turkey, sausage, ribs, chicken, cole slaw, baked beans, fritters, bread and a giant platter of homemade tater curl fries. It was a big meal for three people, for $29.99. I enjoyed the meal, but it didn't make the threshold for our Unique Kansas Restaurants page.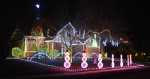 Parkside Christmas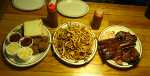 Family BBQ Dinner
Saturday - December 9, 2013: I was on my own to travel to Topeka to check the Topeka Christmas Light Tour tonight. This tour has grown larger and more popular every year.

The coolest thing this night was the train, city and circus display in the garage of the home at 2947 SE Virginia Avenue. You actually walk up the driveway to look through the garage door window.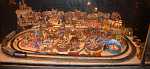 Virginia Avenue Display
Friday - December 20, 2013: For lunch, I revisited Master Wok, to update its listing in our Olathe Restaurant Guide. I really should go here more often, but it seems I only go when it is time to review it. At lunch, Master Wok offers 26 complete meals for $5.95 to $6.95 - complete with the choice of fried or steamed rice, the choice of egg drop or hot & sour soup and the choice of egg roll or 2 crab Rangoon.

And it is good food. The $5.59 Szechuan chicken dish was excellent!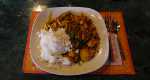 Szechuan chicken