Saturday - April 2, 2015: On our way to lunch at the Snack Shack, we discovered that some of the trees in downtown Overland Park were yarn bombed late last year.

It was the first time we had been to the Snack Shack on a Saturday in a very long time and I was surprised at how busy they were, with pretty much all of the seating inside and out taken. It turns out that they even have a shorter menu on Saturday, to make it easier for them to accommodate the volume of business.

While leaving the neighborhood, we passed by the Tiki Heads on 79th Street, to see if they were still in place. In addition to the Easter Island style carved heads, there are now a number of found object metal sculptures.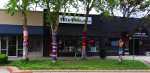 Yarn bombed trees
Sunday - May 3, 2015: I was up early and drove to Wamego where the 2015 Kansas Sampler Festival was being held. At 9AM the Kansas Explorers Clubs annual meeting was held and it was great seeing old friends including Wendee Laplant and Marci Penner who are the directors of the Kansas Sampler Foundation.

Following the meeting, I renewed our memberships at the Sampler Foundation's web site and spent a couple of hours visiting the many booths promoting Kansas attractions and businesses. It was a treat finally meeting Scott Bean of Scott Bean Photography. I have enjoyed his work online for several years and he has also given me leads on Kansas waterfalls. Scott introduced me to another photographer, Eldon Clark, who also has Prairie Fire Grill and Catering in Minneapolis, Kansas.

For lunch, I decided to investigate Fulmer's Kansas Premium Meats & Eatery, a family owned & operated meat market in Belvue. The menu was very limited and I tried a "taco burger" which was a burger with tomato, lettuce and shredded cheese. No taco seasoning or sauce.

On the way to Belvue, I noticed a sign for "Historic Site - Louis Vieux Family Cemetery, Homestead and Vermilion River Crossing," and drove several miles north to find that the cemetery and homestead had been turned into a small park with a heavy metal fence, gate and picnic table in 1979. The 1850s cemetery was quite interesting. Most of the original markers are damaged or largely illegible, but they have been left in situ and newer stones with the same info added at some time.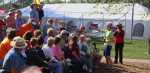 Kansas Explorers meeting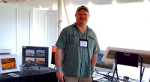 Scott Bean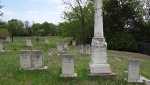 Louis Vieux Family Cemetery
Friday - May 8, 2015: We took out of town family from both coasts for some Kansas exploration today. They had never seen Kansas west of Topeka and years ago we promised to take them someday.

We first drove to Cottonwood Falls and Strong City, visiting the Tallgrass Prairie National Preserve, a neat old falls & bridge, and the most beautiful courthouse in Kansas. We had lunch at Ad Astra, a restaurant that is only open on the weekends and bills itself as a progressive home style restaurant. The food was even better than I remembered and everyone seemed impressed. We split a pair of large starters (fried Brussels sprouts and blue cheese chips). I had an outstanding small ribeye steak and Mary raved about her grilled cheese which was made with goat cheese, local Cheddar, avocado, apple wood smoked bacon and apricot bear jam.

I'm not used to planning travel for a larger group and it took more time than I planned, so we cut a couple of things and made one stop in the afternoon, at the Martin and Osa Johnson Safari Museum which is devoted to a couple of motion picture pioneers. Martin returned from a cruise on the Snark with Jack London and toured the vaudeville circuit telling about the trip. He fell in love with the 16 year old Osa and they eloped after just 5 weeks. They purchased early motion picture equipment and traveled to the South Seas to filmed their first movie, Among the Cannibals of the South Pacific, which premiered in 1918. They went on to do many travel movies, write books, have a line of clothes, and do lots of marketing.

From the museum we walked a short block to the point that is the starting point of Google Earth in Mac computers, and two doors farther to the old soda fountain at Cardinal Drug Center for ice cream sundaes and sodas.

We drove on to Fort Scott where several family members were staying for the night and had supper at Crooners Lounge at the Liberty Theater. It was the first time we had been there (I first heard of it only the day before) and they did a good job with our group of 16. We left our friends at a nearby hotel with other family and drove on to Pittsburg for the night.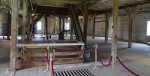 stone barn at thee Tallgrass Prairie National Preserve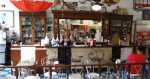 Cardinal Drug Center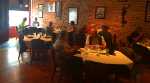 Crooners Lounge at the Liberty Theater