Wednesday - November 1, 2017: I had supper at the Broadmoor Bistro in Overland Park, Kansas, which is part of the Shawnee Mission School District. The food is prepared and served by high students.

Up until this school year, the student restaurant was at the Broadmoor Technical School and we have had a review of the restaurant at that location for many year. The restaurant moved to a new location at the Center for Academic Achievement, over the summer. The feel of the new dinning room is both more contemporary and more institutional. I referred the old location.

I won't go into the details of the meal until the restaurant's review is updated, but will mention that the pace was very slow. The meal took and hour and 40 minutes.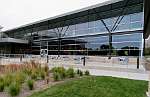 Broadmoor Bistro
Saturday - November 4, 2017: Linda and I had lunch at Big T's Bar-B-Q in Kansas City, Missouri. It had been two years since the last time we dined there and it is time to update its review. While I like the food at Big T's, it has the disadvantage of being on the far side of the metropolitan area and near two other restaurants which I enjoy even more: LC's BBQ and the Peach Tree Buffet. The food was very similar to our last visit, so the main changes needed will be to the menu listing.

In the afternoon I drove to Wyandotte County Lake in Kansas City, Kansas to photograph a small waterfall which we learned about last spring. The falls is on a creek feeding into the lake, near a bridle trail. I walked back to the falls using the only directions which I had, which sent me along the trail from the norse trailer parking lot. That trail cross estwo small creeks, using stepping stones and probably would not appeal to hikers when there is much more water. I met only two riders on the trail

Although relatively little water was going over the falls, it was still pretty and sounded cheery. I found an easier way out, walking near the creek going toward the lake.

I followed up with a circle drive of the 800 acre lake. The neatest thing which I fond was the Mr. & Mrs. F.L. Schlagle Library, which is an "Environmental Learning Center," on a point overlooking the lake.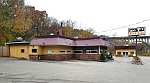 Big T's Bar-B-Q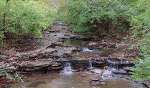 Bridle Trail Falls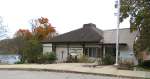 Schlagle Library