Saturday - February 1, 2017: I had a second meal at the recently opened Anna Mae's, a restaurant in an old house, just south of downtown Olathe, Kansas. This is the second or third restaurant at this location.

For $11.95, I had the Anna Mae's Combo with a half sandwich, cup of soup and small house salad. I selected the turkey club salad, which was very good, an even better potato soup and a salad that I could have done with out. Overall, the meal was very nice.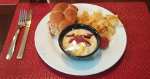 Anna Mae's Combo
Monday - February 3, 2017: I We revisited Stroud's Restaurantin Fairway, Kansas. The small Stroud's chain has a long an conveluted tradtion which dates back to 1933 in a shack at 85th Street and Troost Avenue in Kansas City, Missouri. They are known for family style meals and particularly for pan fried chicken. This location open in 2008, and has often had long waits for a table, but they have finally added reservations.

My favorite dishes today were the cottage fries and fried chicken gizzards. The cinnamon rolls do little for us, but have many fans.