Wednesday - October 3, 2018: I updated our page devoted to Stroud's Restaurant in Fairway, Kansas, which is known for its family style fried chicken dinners. We revisited it on September 30.

The menu has been largely changed with more options for people who do not want an enormous meal. For example, you can now get an individual style meal, instead of all-you-can-eat family style, for a couple of dollars less.

Stroud's has also added reservations through Yelp, a change that will probably bring us back a little more often.
Saturday - October 6, 2018: For lunch, we went to Rosedale BBQ in Kansas City, Kansas, which was founded in 1934. It had been a couple of years since our last visit. My chili dog was very good, as was Linda's half chicken, which had been smoked and then finished in a deep flyer.

In the past, the pork ribs have been my favorite meat at Rosedale BBQ, but this time they were so tough that it was hard getting the meat off the bone.

We added a new review of Pretty Boy Floyd's Steaks & Shine, a wonderful prohibition era themed steakhouse in Ellsworth, Kansas which we visited in August.
\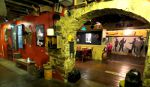 Pretty Boy Floyd's Steaks & Shine
Sunday - October 14, 2018: While returning from a trip to Illinois, we stopped at Gate's BBQ in Leawood, Kansas. The last couple of times we wanted to stop there, the lines have been very long, but we were a little early for supper and the line was not bad at the time we ordered.

Although Gates is far from my favorite Kansas City BBQ restaurant, the meats are still better than I remember. The smoked ham and smoked brisket were both very good, the ham having some of the best flavor of any I have had in the city. The pork ribs were a little less exciting, The large thick French fries were thick and a little underdone. They would be so much better if they were a little more crisp.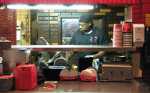 Gate's BBQ
Saturday - October 20, 2018: We drove to Lawrence, Kansas this morning, to revisit a couple of places and checkout an interesting spot we only learned of this summer.

The first stop was Nick Schmiedeler's grassroot's art environment on Missouri Street. I first visited this art environment in 2009, returning in 2013 to update the photos and to add the folk art in the back yard and alley. There were a group of people in the yard admiring and photographing the art. Not wanting to interfere, I took a view photos, shooting around the visitors as much as I could. In general, the environment doesn't seem as artistic to me as it did in the past.

We had lunch at Leeway Franks on Iowa Street. I dined there 3 years ago, when the place was new, but didn't decide to add it to our list of Unique Kansas Restaurants at that time. Leeway Franks makes its own sausages, using local suppliers as much as possible. They are working on adding a butcher shop in the same building in the near future. We had been hoping that it would have opened by now.

The food is a bit of a mixed bag, but really shines at times. The hot dogs have great flavor and and should do well when the the butcher shop opens. I tried both the chili dog and Chicago dog and the buns and toppings were good on both, but I would have enjoyed the chili dog much more if they added crushed red pepper or hot sauce to their selection of condiments.

Linda's Italian sausage was also very good, though I found a large piece of gristle in the piece I sampled. The sausage was less course than we are used to, closer to the texture of a hot dog, than to many sausages. I'm not saying that is bad, just different.

The French fries appeared to be fresh cut, but they were not crispy and I only ate the smallest ones which were a little more done. A hot dog or sausage with fries is pretty reasonable at $8-10, but if you want to have more than one sandwich, it is much less reasonable. They knock off only a dollar for not getting the side, so a chili dog, Chicago dog and just one fry side is a bit pricey at $18. Cans of pop are $2.

Our final stop in Lawrence was Medicine Wheel Earthwork which was built at Haskell Indian Nations University in Lawrence, Kansas in 1992. I was expecting the shape to be formed by a low earth mound, but it did not appear to be an earthwork, just mowed in the pattern, with a stone fire pit in the center and with stone posts/altars on the outside of the wheel at the four main points of the compass. It was a beautiful fall day and we enjoyed the quarter mile hike to the wheel.

This evening we added a new page devoted to the Clendening History of Medicine Library & Museum at the University of Kansas Medical Center in Kansas City, Kansas, Which I had visited at the end of April. .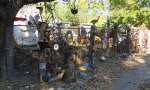 Schmiedeler's grassroot's art environment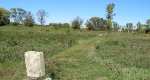 Medicine Wheel