Saturday - November 3, 2018: Two friends joined us in trying the new Maui Express restaurant in Overland Park, Kansas. This is at least the 4th restaurant in this location. My favorite previous one was the New York Dawg Pound.

The menu consists of teriyaki sandwiches, wraps & bowls. The bowls can be ordered mild, medium or hot. I had a chance to sample several of the bowls and a wrap. Much as the dishes sounded like something I would really like, I was not excited with any of them.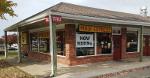 Friday - November 9, 2018: For lunch today, I tried the new Toni's Italian Restaurant in Olathe, Kansas. Is is on Santa Fe, just east of I-35 in a building which has housed at least three other restaurants. There are a variety of $8, $9 and $12 lunch special and I went with the $12 shrimp scampi. It was really more food than I look for in lunch and I would rather they reduced the serving and dropped the price a $1.50.

The meal began with a large house salad and warm bread with a nice olive oil mixture for dipping. The scampi was a generous serving with 5 large shrimp. I look forward to seeing how this restaurant develops over time.

Downtown Diner in Olathe has changed hands, but is keeping the same menu and chefs. We will miss Rich and Sue Caines who we have known since their previous restaurant and now at this location since 2011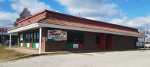 Toni's Italian Restaurant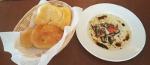 rolls & olive oil
Saturday - November 17, 2018: I had a full day of exploring southeast Kansas, with the first stop being at the Osawatomie State Hospital Cemetery, north of Osawatomie, Kansas, which was the burial location of patients at the State Hospital whose bodies were not interred by family members. There are 346 burial markers in the cemetery. They do not have names, dates or anything to identify those who are buried here, other than the 4" high numbers from 1 to 346 in the order they were placed.

The next community where I stopped was Greeley, Kansas where I photographed the beautiful St. John The Baptist Parish Church. As I was leaving town, a sign which said Gerth Cabin, caught my eye. I discovered that it was an 1856 log cabin which was moved next to the 1915 Wagon Bridge over Pottawatomie Creek. The grounds can be visited anytime and tours are available by appointment through the Anderson County Kansas Historical Society.

I continued to do quick drive-thrus of the communities I passed, until I arrived in Moran, Kansas where I revisited Chancy's Grill & Shake and had a late breakfast/early lunch. Chancy's was one of the many restaurants we learned of when our Best Kansas Burgers page was first published. I had dined here once before, but needed to try more of the menu before doing a review. Today I had a pork tenderloin and chili cheese fries. Both were good, but the French fries are eclipsed by the curly fries I had on my previous visit.

Back on the road, I continued to make brief passes though communities to take a few photos, but didn't stop again until I arrived at St. Aloysius Church Historic Site in the unincorporated community of Greenbush. A grotto has been added since my last time here and I needed photos to update its page.

Pittsburg was the principal community I had planed to visit today. I photographed Timmons Chapel at Pittsburg State University and then to the University's Veterans Memorial Amphitheater which honors veterans of all branches of service. In addition to a 250 seat amphitheater, the memorial has a 1/2 scale replica of the Vietnam Veterans Memorial Wall, a reflecting pool, and a plaza with with more than 2,000 engraved paving stones.

Lunch was at Bob's Grill, a wonderful little breakfast and lunch place with great hamburgers. I had already dined here several times over the years, but some how had failed to write a review. It had been a couple of years since the last visit, so I needed new photos and confirmation that things were still as good before reviewing the restaurant. I had a double cheeseburger with chili fries (fresh cut) and they were both so good that is took great discipline not to finish them. They were a bargain at only $9. A single quarter pound cheeseburger and fresh cut fries is only $6.25!

Heading back north now, I stopped at the Miners Hall Museum which has been developed in the Community Center in Franklin, Kansas. I had been in the building in 2010 when the Kansas Explorers were having their annual event called "The Happening" in Franklin. At that time, there were just a few displays on the edges of the interior, but now it is a fill blown museum.

Fort Scott was the final stop on the the southeast Kansas tour. I revisited the Fort, Gunn Park and the Nu Grille Cafe. The Nu Grille opened in 1946. I had a fabulous cheeseburger and onion rings,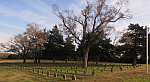 Osawatomie State Hospital Cemetery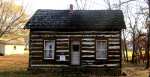 Gerth Cabin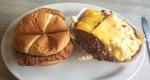 Pork tenderloin

Memorial Amphitheater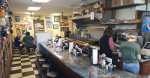 Bob's Grill
Wednesday - November 21, 2018: We drove up to Leavenworth, Kansas with out of state guests, planning to revisit the C.W. Parker Carousel Museum, but we hadn't checked the hours and were surprised to discover they are closed on Wednesdays. Instead we did a driving tour, going though the Mt Muncie Cemetery. Leavenworth National Cemetery, the VA Medical Center campus and through town to see the buffalo and the United States Penitentiary.

Lunch was at All Slabbed Up BBQ. I forget just how much I enjoy the food at this place until I go back again. I had a great meal of burnt ends, pork ribs and fries!

On our way back through Bonner Springs, we stopped by Moon Marble. This place is always fun! I was a little disappointed at first when the glass blowing demonstration was done by a young man instead of the owner, Bruce Breslow, but he did a great job and the demonstration was quite entertaining.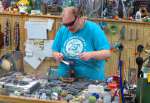 glass blowing demonstration
Monday - November 26, 2018: We started visiting Christmas displays in Johnson County for our Kansas City Christmas Light Tour today and will be going out photograph several times a week for the next 4 weeks.

Northeast Kansas had a storm with high winds this weekend and any Christmas Light displays were damaged. Paulie's Penguin Playground in Olathe suffered a setback from the November 25 storm. The Craig family hopes to have the playground back up by Wednesday or Thursday, November 28 or 29.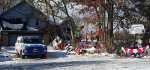 Paulie's Penguin Playground
Friday - November 30, 2018: In the early evening, I drove to Lawrence to make the first pass to update our Lawrence & Eudora Kansas Christmas Light Tour.

The decorated trees along Massachusetts Street in downtown Lawrence have been the final stop on our Christmas Light tour for many years. This year, South Park, just south of downtown has a huge tree which has been decorated with blue lights on the branches, icicles, flashing stars and hanging strings of lights which move with the wind. Parking is available next to the Douglas County Courthouse.


Before checking the rest of the displays, I tried out Sully & Hanks which opened a year and a half ago on 9th Street, a few blocks west of downtown Lawrence. I was brought in by great looking photos of burgers on their Facebook page and ordered the $14 Guinness Melt and onion rings. The burger was described as a griddled burger with Guinness demi, corned beef, braised cabbage and house cheese blend on a toasted brioche. How could anything with that wonderful description have so little flavor! The onion rings weren't bad.


Back n the car, I checked on old and new displays. Mary Ann and Gary Martin's animated "Parkside Christmas" is still impressive. Although the neighbors who started the displays lining the streets at Wildwood Drive and Woodridge Drive have moved away, others are carrying on and 40 houses are participating.


We followed up by checking on the three displays which were on our tour in Eudora last year, and happened to pass a wonderful Nightmare Before Christmas display on our way to revisit the Grinch Christmas. I would love to learn more about this display. It is fairly simple, but matches up with the house wonderfully.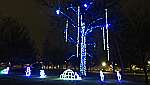 South Park Tree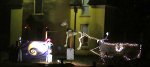 Nightmare Before Christmas