Saturday - September 5, 2020: The day started overcast, but by 8:30 it showed signs of clearing and drove to Grinter's Sunflower Farm, between Tonganoxie and Lawrence. As we left I-70, we could see a fairly steady stream of cars heading for the farm. The primary field is at a new location from the past few years and they have cleared a nice parking area across the street.

We took photos at this location and then headed to the Grinter's "Sunflower General, where they sell crafts, t-shirts, local honey and baked goods. This space was changed this year in an attempt to allow for social distancing, but there were still more people than we felt comfortable with.

There was a second smaller sunflower field behind Sunflower General, with plants which were a few days behind the main field.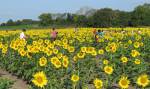 Grinter's Sunflower Field
Monday - September 14, 2020: I drove to Mission, Kansas to have lunch at Town Topic, a 20 plus year old restaurant serving drive-in style food in a 1950's Valentine Diner. The first Town Topic was opened in Kansas City, Missouri by Claude Sparks in 1937 and there are three locations today.

Unfortunately, it was closed during its normal hours. It is not clear if that is temporary or longer term.

While in Mission, I stopped at Cross Cemetery, a tiny family cemetery at the busy intersection of Lamar Avenue and Johnson Drive. Two grave stones are mounted in a red brick wall: Nancy Cross who died in 1886 and
Washington Cross who died in 1872. There is also a flat marker, "Dedicated to the pioneers of this community."

I have found little information about this cemetery online. Find A Grave says the bodies which were interred here were moved to Cornith Cemetery in Prairie Village, but does not list Nancy or Washington as buried there. Other sources say the burials are still here, with one claiming that this was the corner of the cemetery, with the other graves having been paved over.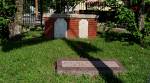 Cross Cemetery